Product Name:Custom Seat Covers for Tesla Model 3 Model Y 360 Degree Full Covered High Quality Leather Cushion
1. Please note your car Model Year and Make or leave it on massage box when you place order. this is custom made.
2. When you order note your car model : For Example: Tesla Model 3 year 2020. We will make it .
3. It will be better if you send us some pictures of your car front and rear seats. just make sure every details in eyes. thanks
If need Half Surround Coverage Seat Cover here :
https://www.teslagx.com/products/half-surround-coverage-on-back-of-front-seat-covers-for-tesla-model-3-model-y-high-quality-leather-cushion
Feature:
1. 1:1 custom made design
2. Material is cowhide leather in middle . rest nappa leather
3.High Temperature Resistance
4.360 Half Surround Coverage on Back of Front Seat Covers For Tesla Model 3 Model Y High Quality Leather Cushion
5.About white color : Pure white is nappa leather, ivory white is real cowhide in the middle.Plesae note which white color do you like .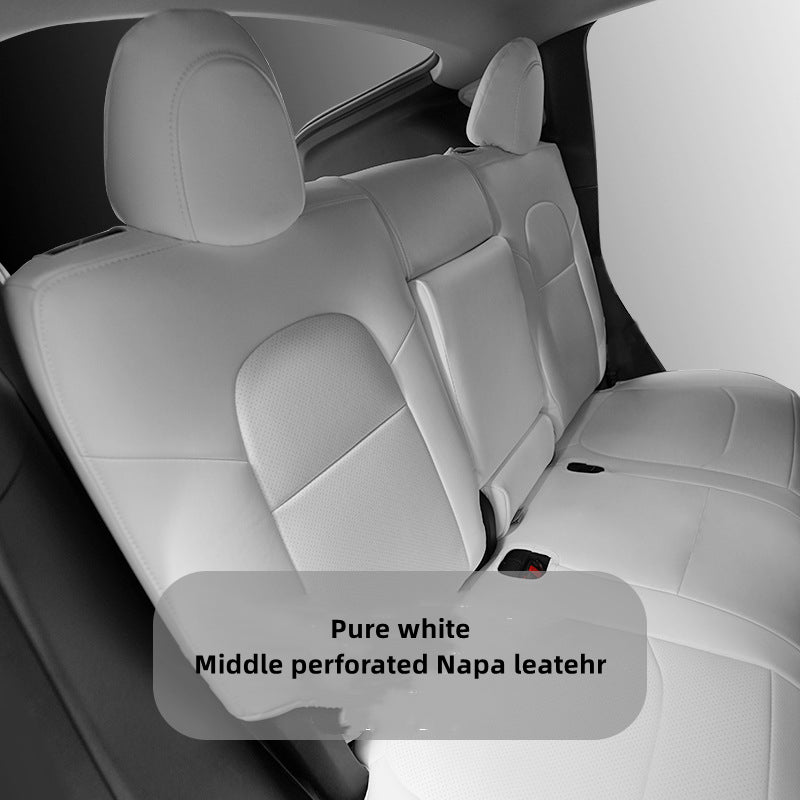 FAQ
Q:How many pieces of this Seat cover?
  A:Dear customer, this seat cover set will come with 2 front seats cover , 2 rear seat covers and 1 rear armrest cover plus 1 pieces front armrest cover for free . It will not affect using armrest on back. please no worries.
Q:Does the seat cover have holes?
  A:Yes ,It's ,As the picture .
Q:Is this seat cover customized or universal?
  A:Dear customer. this seat cover is 1:1 custom made according the original model with same texture. so every model makes a different mat. So please let me know your complete car information like this :Tesla model 3 2022.
Q:How do I know if it fits my car?
  A:Dear customer, This design is specific designed for Tesla Model 3 Y, if you custom made for Model 3 Y, please directly place order and just leave us the year of your Model 3 Y. If you are other model cars, please ask our customer service to check if this design fits your car. thank you.
Q:The picture sample online is not for my car. can I see the mat that is exactly on my model of car?
  A:Dear customer, I'm sorry to tell you we just can send you same brand as samples to see how it looks. but we can not send you picture that is exactly on your model of car. Because we can custom made thousand of models of cars. we can not give every model a shot. thanks for understanding.
Q:How should I do if it does not fit my car when it arrives?
  A:Dear customer, please send us some pictures that it is on your car. we will remake it free for you again . we also have free return if you do not want a free remake piece in 15 days from the package delivered.
Free Return Covered countries: (Russia, United States, Spain, France, Brazil, Netherlands, Israel, Poland, United Kingdom, South Korea, Germany, Italy, Canada, Australia, Saudi Arabia, UAE, Chile, Ukraine, Japan, Mexico, Belgium, Czech Republic, Switzerland , Portugal, 24 countries so far)
Q:Can I purchase a model that is not Tesla?
    Yes. we can please connect our customer service to confirm firstly before you place this order. thank you.
Free Ship to US usually takes 25-45 days. Ship to Europe takes 20-40 days.
We can send a part of free material you can test , but need to pay th shipping fee .